Antique silk & wool tapestry late 1800s, female character, green, burnt orange, cream, brown floral, upholstery, cushion, vintage textile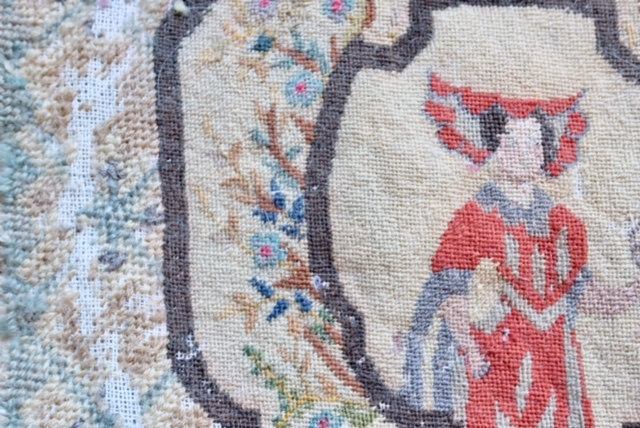 Antique silk & wool tapestry late 1800s, female character, green, burnt orange, cream, brown floral, upholstery, cushion, vintage textile
Wonderful turn of the 19th century, silk & wool tapisseri (tapestry), beautifully worn and with so much character..

The underside of these pieces are brighter (wool & silk is not faded) and often even more beautiful than the 'right' side.

This piece was part of a collection owned by a very famous Interior designer who favours decorating with textiles, her work has featured in many celebrated interiors books such as 'Textile Style: Decorating with Antique and Exotic Fabrics' and 'Provence Interiors'.

This piece, in good antique condition is a luxury textile collectors dream and it is in good enough condition to be used for sewing projects as it is perfectly intact. Would be great for textile projects, dolls clothing, upholstery, cushions etc

This fabric measures 27cm at widest and 28cm

This gorgeous textile is in as found, not freshly laundered condition with light storage dust ( can be hand washed and hung to dry ~) . It's ideal only for someone looking for a genuinely aged, timeworn textile work of art!