Collection vintage ribbon samples. Tribal, chequered, floral, woven, striped, chevron ribbons, pink, fuschia, chocolate & violet tones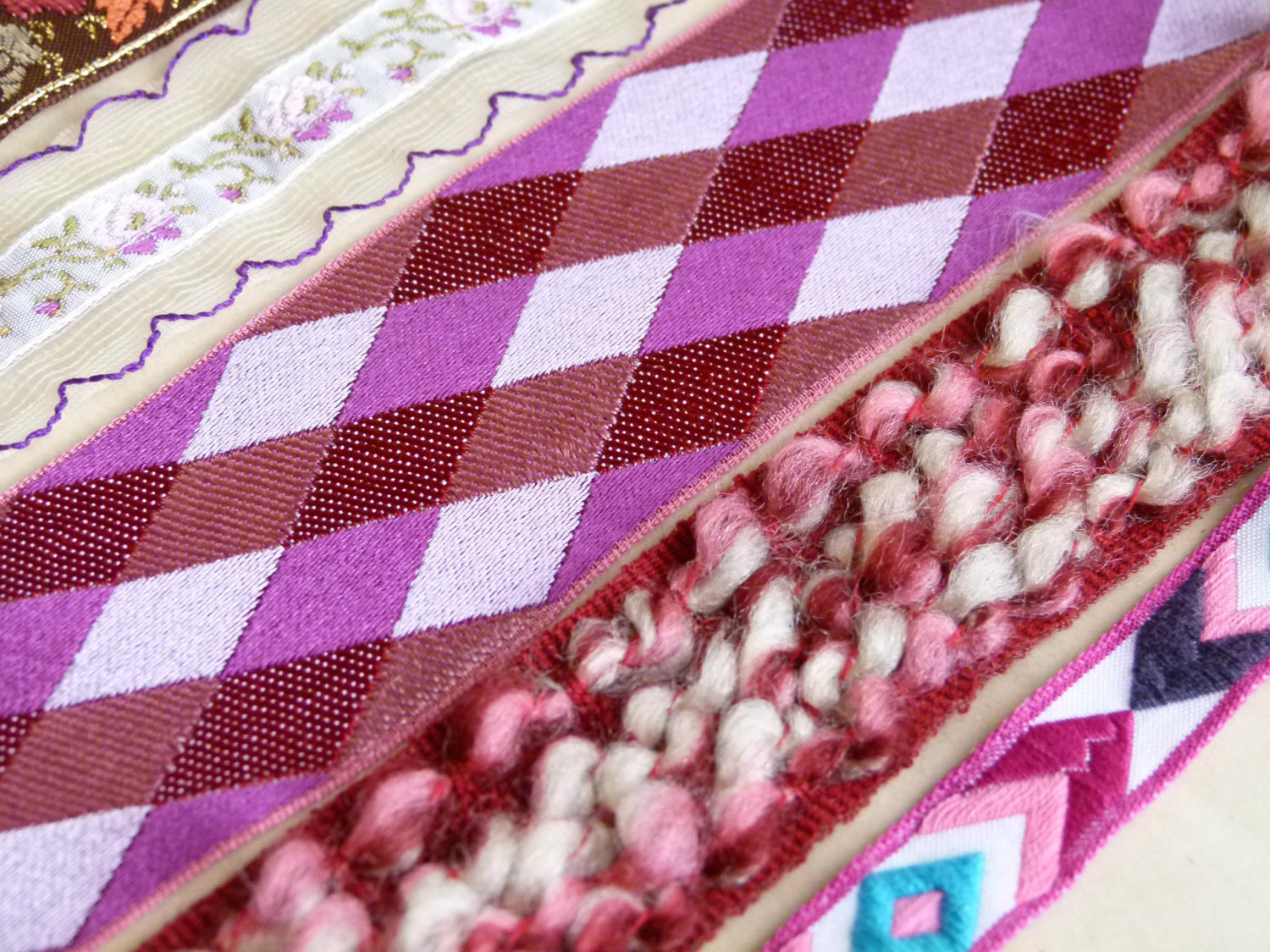 Collection vintage ribbon samples. Tribal, chequered, floral, woven, striped, chevron ribbons, pink, fuschia, chocolate & violet tones
Treasured collection of antique french jacquard ribbons dating from 1890 - 1960, made in St. Etienne, the world home of ribbon making.

I've created a collection spanning 70 years and encompassing many different styles including tribal, chequered, floral, woven, striped, and chevron in pink, fuschia, chocolate and violet tones

These beautiful samples or echantillons in French were originally cut and used in salesmans books.

They are timeworn but still hauntingly beautiful.

Details:

Ribbon 1: Vibrant Chequered jacquard ribbon from 1950 in hot pink, violet, burgundy and mauve shades. . Ribbon measures 21cm by 4.3cm

Ribbon 2: Wonderful mohair weave with cream, wine and pink tones. Ribbon measures 20cm x 3cm.

Ribbon 3: Purple Floral ribbon with netted edging, It measures 19cm x 2.8cm

Ribbon 4: Vintage French tribal / chevron pink, violet, orange and turqouise ribbon. It measures 22cm x .1.3cm

Ribbon 5: Thick purple ombre piped ribbon cord, measures 14.5cm long and 1.7cm wide.

Ribbon 6: Beautiful jacquard sample in chocolate, pink and gold tones. Ribbon measures 14cm long and 2.4cm wide.