1815 French Toile de Nantes 'CINCINNATUS'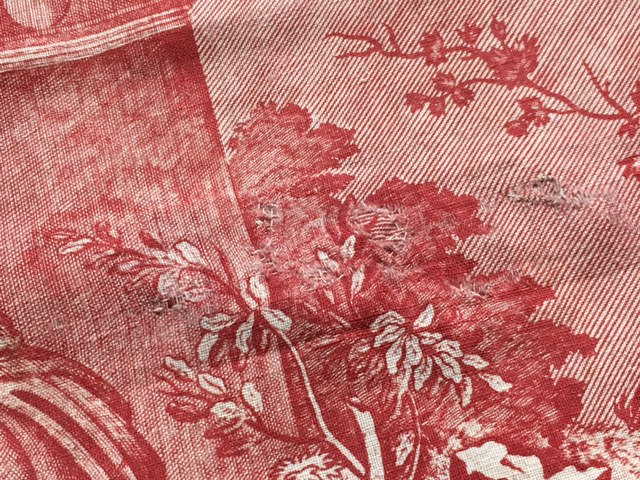 1815 French Toile de Nantes 'CINCINNATUS'
The stars were shining on me the day that I opened a trunk at the brocante in Bordeaux to discover remnants of beautiful toile de Nantes.

After much searching in archives, I discovered that I had happened upon panels from a very beautiful Toile de Nantes, called CINCINNATUS, created by the highly celebrated Atelier Petitpierre circa 1815

It is a typical red garance (madder root) with very finely engraved printed scene.

Please note that the identifying detail is the quote "On annonce a Cincinnatus qu'il est elu Dictateur." Atelier Petitpierre.

The scene depicts Lucius Quinctius Cincinnatus, a Roman statesman and military leader at the height of the Roman Empire. He was renowned as an example of outstanding leadership, service to the greater good, civic virtue, lack of personal ambition, and modesty

This piece, in excellent condition is a luxury textile collectors dream but it has been stored very carefully for the last 200 years and is in good enough condition to be used for sewing projects as it is intact and would make an incredible addition to couture projects

I have several different pieces for sale.

This listing is for the section photographed which measures:

138cm by 29cm

There are seven beautiful mendings visible at back of piece. Exquisite darning indicates the patient care that was bestowed upon these treasured prints. And incidentally the "patching" of fragments of Toiles de Jouy is quite as fascinating a pastime as cross word puzzles are to-day.