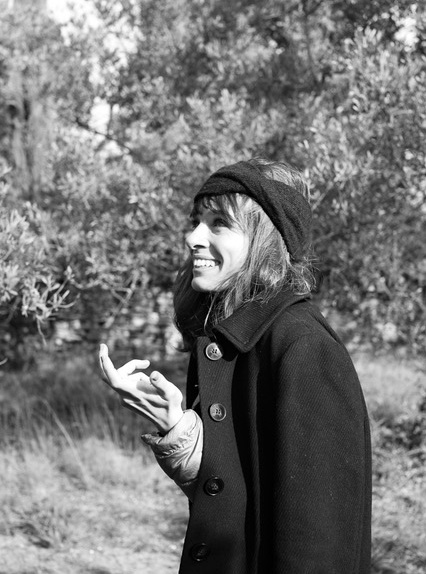 "At home, unpacking after one of the most fulfilling creative endeavours I embarked on in a long time — after a week filled with all kinds of epiphanies — I wonder how I could make that feeling, that spark, that sense of deep human connection that goes well beyond the mere act of being in the same place doing the same things for very similar reasons last longer.
I fear that by simply doing the laundry I'll wash away much of it. That by shaking off the bits of olive branch and moss and dry hydrangeas that are still stuck to my coat I'll somehow lose the last sensorial clue of the week past, and with it, the last tangible proof it actually happened."
"Provence has been a dream, I can't believe the workshop is over. I don't want it to end so I can stay here forever. …
This was a little garden dinner scene we styled in Giuseppinas beautiful garden. I am so grateful that I was asked to take part in this workshop it's been one of the best experiences of my life and I have made some wonderful friendships with the lovely attendees and the amazing team Ruth Ribeaucourt, Elodie Love, Valeria Necchio, and Nora Jaccaud, Raina Stinson and Zuza and Giuseppina, it's been a pleasure working with you all this week, you are all incredible."
"…pure magic. Total beauty and inspiration with the most incredible people with the most wonderful stories. Heart and soul filled 💛"
"Here is one happy fellow. I can't begin to describe the joy I feel after last week. I cooked, I listened, I learnt, I created, I fell in love and I would do it all over again. Thank you #foragefeastphotography and thank you Ruth Ribeaucourt for making our Provence dreams come true."
Remerciements
We are so grateful for the immense support from all our sponsors and collaborators.
Click on the images below to find out more information about these exceptional companies
"What an amazing start to 2019. Thank you Ruth for dreaming up an amazing creative adventure in Provence.
From the instructors, participants & everyone we encountered during our adventures, everyone radiated with beauty, creativity, generosity.
All of us sharing our experiences & our points of view through visual storytelling. The energy from this experience will carry me through 2019 & beyond. "
"What an incredible week! I'm so grateful to have spent the past five days making, creating, EATING, learning and laughing with some truly lovely people from all over the world, in such an incredibly special corner of the world. I fell in love with Provence and am coming home with treasures, memories and fully charged creative batteries."
Amanda Reynolds, Plume Photography