French Muse Retreats
Meet and connect with local artists, farmers, winemakers, fly trufflers, cheesemakers, bread bakers, brocanteurs, raconteurs and petanque players.
Our French Muse retreats are a truly bespoke week-long insiders experience, carefully crafted to let you connect with Provence in all its beauty; the landscape; the colourful texture of the regions; Provençal meals to swoon you to the next mouthful; visits with the creatives and artists who call Provence home and to our famous flea markets (brocantes), where history is unrolled through linen, pottery, paint, nail, wood with abundant creative style.
We take great pride in creating retreats that are very personal, immersive, transformative creative experiences. Our priority is to craft experiences where you can relax, and find sustenance of every kind—physical, emotional, and creative, so that you be inspired anew, and connect—with others, yourself, and the French countryside.
Every day lived in Provence is a day of beauty, filled with tantalising flavours and enduring inspiration – why not let us share it with you in 2019!
Limited Places left for 2019.
Experience Provence like an insider "off the beaten track" in our favourite villages, tiny hamlets and artists' enclaves.
7 Nights All Inclusive Retreat, a true Insider experience with exclusive access to artists homes & ateliers, culinary feasts & tastings and soaking up history at our favourite French brocantes.

Where: Gordes, one of the most beautiful villages in France. 40 mins from Avignon, 1 hr 15 mins from Marseille and only 25 mins from Isle sur la Sorgue.

Price: 3,500 euro (single room price). *Contact me if you wish to share a room with a friend as we have a twin room option
SPRING FRENCH MUSE
Date: April 2-9 2019 SOLD OUT
SUMMER FRENCH MUSE
Date: May 7-15 2019 SOLD OUT
INDIAN SUMMER FRENCH MUSE
Date: September 10-17 2019 SOLD OUT
AUTUMN FRENCH MUSE
October 8-15 2019: Now open for registration.
New! 2020 dates
April 2020
Gordes, Provence.

7-14 April 2020
May 2020
Gordes, Provence.

5-12 May 2020
September 2020
Gordes, Provence.

8-15 September 2020,
I have two more creative retreats to announce for July 2019 and September 2019 - if you would like to be the first to know then just sign up here!
Where you will be staying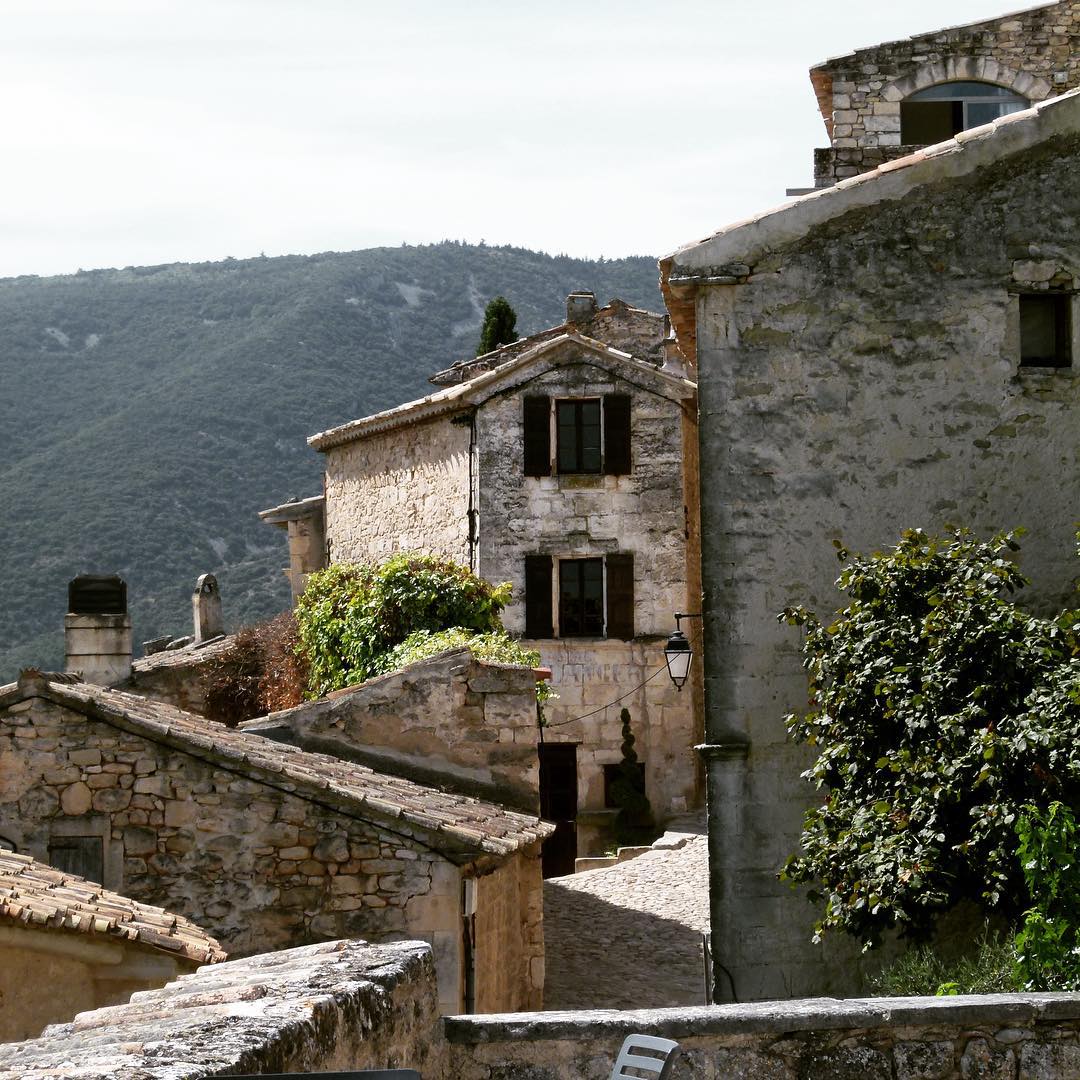 We have two French Muse homes, which have been carefully chosen for their charm, warm interior design and comfort.
For smaller groups (4-6 guests) your home away from home will be in a recently restored village home, in the hilltop village of Lacoste in the Luberon, one of the small villages which inspired Peter Mayle in his book, A Year in Provence.
Within walking distance of the castle of the Marquis de Sade, the rooms and terraces offer breathtaking views of the mountains of the Vaucluse and the valley that sweeps down towards nearby famous villages Bonnieux and Goult.
For larger groups (8-10) we have a wonderful ancient 12th Century home in the countryside of Gordes which is filled with artwork, books and heart.
Our French Muse homes are not your run of the mill rentals - they are family homes which are decorated with antiques and artwork, real Provençal homes.
To experience Provence is to taste the sunshine and understand the meaning of 'Terroir'!
It is not enough that you will be visually stimulated by everything we show you in Provence – we want to explode your taste buds with foodie experiences on all levels.
When you come on the French Muse Experience, all your meals are included; a traditional French breakfast, lunch and dinner.

We include a perfect mix of our favourite classic French restaurants, luxury picnics and charming foodie gatherings planned in makers homes & ateliers, and wonderful home cooked meals at the French Muse house/bastide. We've even been known to host cheese & champagne pyjama parties at the end of a long exciting day out!.
A week full of inspiring activities
We are so excited to share what we feel is a very unique and personal itinerary.
How better to discover the heritage, history and heart of Provence than to spend a morning exploring the French flea market.
We can't wait to introduce you to our favourite artists including potters, textile artists, collectors, printmakers, photographers, sculptors and painters; who will generously open up their beautiful homes, ateliers and personal collections.
With many years experience in French antiquing, The French Muse opens its little black books of private antiques dealers and creates exclusive antique textile and brocante sales outside of the flea market circuit.
….and plenty of time in between to become inspired anew & connect—with others, yourself, and the world around you.
Previous Creative Retreats…
When: January 16-20 2019
Where: A beautiful artists residence in the medieval perched village of Saignon, Provence
A very special 5-day visual storytelling retreat which will be a wholehearted sensorial celebration of food, photography, visual storytelling, creativity and cooking with our star ingredient the Tuber Mélanosporum, (aka the elusive black winter truffle).
Five wonderful teachers will lead this retreat.
Light & Dark Food Styling & Photography : Aimee Twigger of Twigg Studios and Valeria Necchio

Styling: Elodie Love aka Madame Love

Chef: Venetian chef Giuseppina Mabilia will cook simple, delicious dishes using fresh local, seasonal product and foraged finds - exploring the links between ancient recipes of Provence and Italy.

Videography: Nora Jacquad of Human Postcards will host a 'Everyone is a story' short film workshop.
This retreat is open to all levels from beginners to more advanced and professional photographers.
It will be a true insiders experience of Provence, with so many opportunities to shoot and practice your photography. You will go foraging in the hills of a nearby village for truffles with an eighth-generation truffle hunter; explore a 15th century Hôtel Particulier turned artist atelier; learn to cook clean, simple good meals following ancient recipes of Italy and Provence; experience the energy of one of Frances most important truffle markets; meet unforgettable characters and forge friendships with like-minded creatives.
We are planning new Photography + Food + Styling adventures for 2019 & 2020 so please sign up to our mailing list or Email me for more information
Photo credit Top to Bottom: Zaira Zarotti, Elodie Love, Valeria Necchio.
Everything you need to know
….about our gatherings
Costs
The full price for a one week French Muse experience is 3,500 euro unless specified.
The cost of our one week retreat is inclusive of everything, except your travel to and from France and any shopping you may choose to do.
Payment plan
When you sign up for your French Muse experience week, a non-refundable €500 euro deposit will hold your booking for this particular date.
The remaining €3,000 payment can be made in one or two instalments.
If you wish to pay in two instalments, we request that the first instalment is paid six months prior to retreat and remaining instalment paid 3 months prior to retreat.
Payment is accepted either by International bank transfer. If you wish to pay via credit card i.e. PayPal then there is a 3.5% Convenience Fee applied.
P.s. If you plan on travelling with a room-mate, then please simply let us know when you book your retreat.
After registration
On registration for The French Muse experience you will receive an initial email confirmation note. Two months prior to the retreat we will send you further details and a questionnaire that will help us further create a week that will fit with your interests and passions.
How many people can we accommodate at our retreats?
Our retreats are limited currently to a maximum of 8 guests and may include a visiting artist or speaker depending on the specific retreat and/or workshop.
Your home away from home will be in a recently restored village home in the hilltop village of Lacoste in the Luberon, one of the small villages which inspired Peter Mayle in his book, A Year in Provence. The French Muse home is within walking distance of the castle of the Marquis de Sade, the rooms are all ensuite.
Two rooms have twin beds if you wish to share a bedroom (please get in touch to know double occupancy rate).
Single occupancy means you will have a bedroom to yourself with a shared bathroom.
Our cancellation Policy
If for some reason you must cancel your trip to France for The French Muse Experience, please remember that a full refund (deposit is non-refundable) can only be provided if notice of cancellation is provided six months before retreat date. After this date, if you cancel your place, you will forfeit your payment.
Please don't hesistate to ask us anything if you are unclear about our booking and cancellation policies.
Travel arrangements
We must request that you approve your travel plans with us in advance of booking any tickets (flight or train). We are very open to helping you find the easiest route to our retreat but it is essential that we know your planned arrival and departure times before booking. This is simply so that we can ensure all of our guests arrive in time for us to make a general airport transfer from Marseille airport on the afternoon of the arrivals day.
Return airport transfers are made the following Tuesday morning, to Marseille airport.
What to pack?
Provence is very relaxed, combined with often hot weather mean that comfort is an absolute.
Here are top recommendations to pack in your suitcase:
A swimsuit, your accommodation has a pool and it can be so lovely to take a dip after a day in the sun!

We would recommend bringing a scarf and/or cardigan for when the sun sets and we are eating outside.

A rain jacket.

An oversized tote bag or backpack for storing your brocante and market finds.

Think cotton. Dress for comfort and to stay cool.

Walking shoes for days spent treasure truffling at brocantes and exploring the perched villages of Provence.

Sunglasses and a hat

People do smart casual for dinner in restaurants but in general the atmosphere is very relaxed
Don't hesistate to ask if you are concerned about what to bring!
P.S. If you've forgotten to bring any of these essentials in your suitcase, don't worry, we will be bringing you to local markets where we can source affordable French versions!
P.P.S. Don't forget to leave plenty of room for all the French gems you are going to want to bring home!